India has become the sixth largest manufacturing hub of the world, and is "on the threshold of becoming the world's most digitized economy" said Sri Narendra Modi, Prime Minister of India, January, 2017
Different Forms of Doing Business in India
India is one of the most preferred destinations for doing business today. It is one of the top 10 FDI destinations globally. The key drivers of business growth in India includes the huge consumption base, investment potential, supportive government policies, lower operating costs and skilled workforce. India has attracted many foreign corporations to set up their business operations since 1991 when the Indian economy was liberalized for foreign investors.
Top investing countries in India include UK, Japan, Netherlands, USA, Cyprus, Germany, France Switzerland, Mauritius & Singapore. Major sectors attracting highest FDI are Services Sector, Construction Development, Telecommunications, Computer Software and Hardware, Drugs and Pharmaceuticals, Automobile etc.
Setting up Services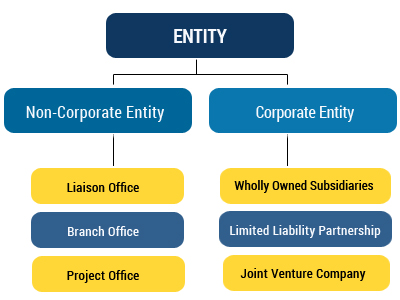 Entry level strategies: Evaluating and developing the entry level strategies. This will include analysis of various options such as Liaison Office (LO), Branch Office (BO), Project Office (PO), Subsidiary and/ or Joint Venture  company in India from legal, tax and regulatory viewpoint.
Assistance in setting up of Presence in India: We assist foreign companies in obtaining the necessary approvals and licenses as per the applicable laws/regulations like:
Reserve Bank Of India (RBI)
Ministry of Corporate Affairs (MCA)
Individual/Expatriate related compliances including PAN, FRRO registration, opening bank account etc.
Registration under various tax laws:
Permanent Account Number (PAN)
Tax Deduction Account Number (TAN)
Value Added Tax (VAT) / Central Sales Tax (CST)
Service tax
Central Excise
Goods & Services Tax (GST)
Import Export Code (IEC Code)
Shops & Establishment Act
Professional Tax
Provident Fund (PF)
Employee State Insurance Act (ESI)
Ongoing Services:
Assurance and Risk Advisory Services – Audit of financial statements is critical to businesses, shareholders / owners, lenders, investors and other stakeholders. We provide statutory audit and risk advisory services / internal audit customized to Client's operations.
Tax & Regulatory Services – KrayMan assists corporates and individuals with tax advisory, planning and compliance services in the realm of:
Income tax – Corporate, Personnel & Expatriate taxation
Withholding Tax
Service Tax
Value Added Tax
Excise & Customs
Goods & Services Tax
Foreign Exchange Regulations Compliances
RBI Filings
Compliance & Outsourcing – KrayMan offers a range of financial & legal compliance services to Clients who are wanting to outsource the entire finance & legal function to one-stop shop service provider:
Accounting & Book-keeping
Payroll management
Tax Returns
Management Representation
Corporate Secretarial matters – Our expert corporate secretarial team comprising of Company Secretaries helps Clients navigate the challenges of complex legal requirements of corporate compliance in India helping ease of administrative burdens. Our team can help you in dealing with on-going compliance in conducting and maintaining :
Statutory registers as per corporate law
Directors' and Shareholders' meetings as per secretarial standards
Preparation & filing of Annual Return including Balance Sheet, Profit & Loss account & other documents.
Statutory filings with MCA
Management Representation – Our Services for Management Representation is mentioned below:
Representing the Board and assisting in designing and implementing a best practice framework for organizational development and Corporate governance.
Assistance in developing and implementing organizational policies, systems and procedures as per the Indian law and regulation.
Advising the Management for staying compliant with various statutes and to act as Management's authorized representative.
Assisting in designing and implementing a robust, efficient and effective Planning, Legal, Statutory and Reporting systems.
Preparing a detailed Budgeting Plan covering short term & Long term scenarios for efficient fund management.
Identifying bottlenecks of companies and assisting them to work out plans to secure profit maximization.
Identifying new markets: Assisting in identification of suitable market, Competition, Pricing, Tax & Regulatory structure and conversion of business opportunities
Representation and negotiation for business partnerships and alliances
Virtual CFO services supports small business who do not have an expert in-house CFO to provide the following services:
Design and implementation of best practice framework for internal governance
Setting up standard operating procedures
Evaluation of internal controls and monitoring results
Timely and accurate adherence with legal requirements
Human Resource (HR) Advisory:  People play integral part of organizations  enabling them to achieve long term goals of generating revenues. In order to gain a competitive people advantage, KrayMan helps in strengthening both the value of workforce through wide range of HR advisory services:
HR policy and manual design
Role defining and Competency framework
Performance Management System
Virtual Chief Human Resource Officer (vCHRO) Services